By quepasamundo | octubre 1, 2019 - 7:53 pm
El material violento de la Operación Judas contra los CDR: pirotecnia y una urna del 1-O, tertulia sobre las detenciones en Catalunya, próximas elecciones del 10 N.
Argentina. ¿Cómo murieron los siete pibes en la Masacre de Pergamino? (audio del caso)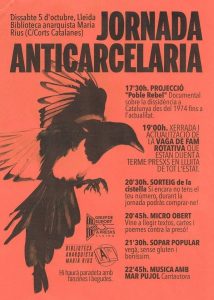 Podcast: Play in new window | Download
This entry was posted on dimarts, octubre 1st, 2019 at 19:53 and is filed under programas. You can follow any responses to this entry through the RSS 2.0 feed. You can leave a response, or trackback from your own site.